Markdown Monster 25 User license for V2 inactive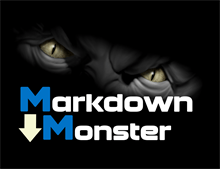 This is a 25 user license of West Wind Markdown Monster that allows use of Markdown Monster for 25 users in a single organization.
Take control of your Markdown text with this easy to use and extensible Markdown editor.
Markdown Monster is a Windows application that provides a user friendly interface for editing and previewing your markdown documents. Type your text with inline spell checking, easy image capture and live preview that lets you see what your output looks like. One of the key features of Markdown Monster is the extensibility via .NET based Addins that allow you to extend functionality by interacting with the markdown document, various document and lifecycle events and the UI of the application.
Features:
Highlighted Markdown text makes it easy to see your Markdown text
Live preview lets you see what you're working on
Capture images using our built-in Capture tool or use SnagIt
Store and capture images with relative paths for easy content management
Insert code snippets and preview with syntax highlighting for many common languages
Choose from several editor and preview themes
Easily customize or create new Preview themes to match your editing environment
Paste HTML text as converted Markdown text
Extension Add-in interface allows extending Markdown Monster with custom functionality
Related Products