Markdown Monster 3.x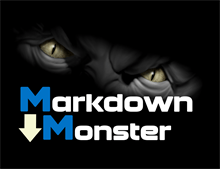 Markdown Monster is an easy to use and extensible Markdown Editor, Markdown Viewer and Weblog Publishing tool for Windows.
It supports syntax highlighted Markdown editing, live HTML Preview, inline spellchecking, many image embedding and pasting options and gentle, optional toolbar support for embedding links, images and screen captures for a user-friendly intuitive editing workflow. You can easily publish your work to any WordPress or MetaWeblog API compatible Weblog and manage your blog and posts from Markdown Monster. Markdown Monster is also extensible via built in text expansions, CSharp scripting and a powerful .NET Addin model that allows you to add custom functionality to Markdown Monster.
This license provides keys for Markdown Monster versions 1.x and 2.x.
Feature Highlights:
Preview HTML in sync from Markdown as you type
Embed images easily into content using files, clipboard or drag and drop
Capture images using our built-in Capture tool or use SnagIt
Powerful two-way Markdown table editor
Built-in, as-you-type spellchecking
Insert code snippets with syntax highlighting for many common languages
Light and Dark Application Themes
Choose from several editor and customizable preview themes
Paste HTML text as converted Markdown text
Export to HTML and PDF output
Publish content to common online Weblog Platforms
Other License Options