West Wind HTML Help Builder 5.0 Upgrade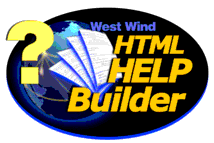 If you have purchased a version of West Wind HTML Help Builder prior to version 5.0 you can use this SKU to upgrade your existing version to the latest version of Help Builder 5.x. Purchases for Help Builder 4.0 made after 9/1/2014 qualify for a free upgrade.
Help Builder 5.0 Improvements
Completely New Text Editor
Markdown support for text (Help Builder's original format is still supported too)
Highlighting text in editor for easier content management on large or complex topics
Live spell checkiing as you type
Support for Open Office Spell Check Dictionaries (en,de,fr,es provided)
New Syntax Highlighting with support for many more code languages
New simpler template themes
West Wind HTML Help Builder is a tool to build both end user or developer documentation for your applications or components. It's also a great tool for creating searchable knowledge bases or other storage of text based data you need to retrieve repeatedly.
Help Builder is designed to make it easy to create and organize content, with its simple and efficient document editor using familiar Markdown syntax that makes it very quick and non-intrusive to create text based content with minor markup. Topic creation and content linking is also provided using intuitive operations like drag and drop for moving of topics and interactive topic pickers that let you find and embed links to other topics in the help project. Capture screen shots (using either our minimal built-in capture tool or using the popular SnagIt software) and embed images with ease. But most importantly the editor interface is very simple and lets you focus on getting your content written with minimal distractions and interference. Use Markdown syntax when needed or use the optional toolbars to help with more complex tasks.
For developers there's support for importing many kinds of component class interfaces including .NET, COM and Visual FoxPro classes. Also supported are imports from SQL Server and Visual FoxPro databases. Help Builder allows embedding of syntax colored code snippets for a variety of languages by simply bracketing the code using simple Markdown sytnax and a syntax type. Although Help Builder shines with developer documentation it works just as well for creating end user documentation for your UI based applications and it supports add-in modes for Visual Studio and Visual FoxPro to facilitate the process of hooking up help content to forms and controls.
Help Builder is fully customizable with flexible HTML templates and style sheets used for layout customization and custom code blocks in the templates to allow generation of any kind of output you can dream up. Or just let our default templates do the heavy lifting and just create your content. Help Builder can also be fully automated through a set COM and .NET interfaces to drive both the core Help Builder Engine and part of the visual user interface.
Related Items